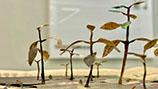 Yuken Teruya …
… is a Japanese artist from Okinawa, who after studying in Tokyo and 20 years in New York City now lives in Berlin.
His works are poetic and fragile. With their mixture of subversive humor and innocent cynicism, they are equally quiet, amusing and enlightening.

Yuken Teruya's …
… works have been shown by the Saatchi Gallery, London and in public collections of the Museum of Modern Art, New York, The Guggenheim, New York, The Renwick Gallery at the Smithsonian American Art Museum, Washington, D.C., the Mori Art Museum, Tokyo, Japan and the Humboldt Forum, Berlin.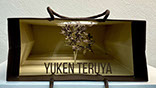 Watch on the right ...
... the portrait of and interview with Yuken Teruya, which was created on the occasion of his exhibition at the Dorothée Nilsson Gallery in Berlin and is mainly dedicated to his paper works shown there.